And away they're going.
The grandstands of Churchill Downs will probably always fill with what bourbon-soaked pundit P.J. O'Rourke described as the "tremendous squash and jostle" of seersucker suits and saturnine headwear every May. And yet, out West no fewer than four of California's once-proud of racetracks have entered some form of bankruptcy, redevelopment, or uncertainty. With attendance and handle down at California tracks – as at tracks across the country – rare opportunities are emerging to redevelop outsized parcels that sit amid heavily urbanized areas.
Thanks in part to competition from off-track betting and Indian casinos as well as nationwide trends, Bay Meadows Racetrack in San Mateo has already been demolished, and Inglewood's Hollywood Park could cease racing operations and face demolition as early as August. With parent company Magna Entertainment in bankruptcy, Arcadia's Santa Anita is up for auction, and Albany's Golden Gate Fields is expected to follow. These changes leave San Diego's publicly owned Del Mar as the state's only financially sound thoroughbred track. (Orange County's Los Alamitos, a quarter horse track, is privately owned and financially sound, according to the City of Cypress Planning Department.)
"Nothing has been successful in terms of trying to preserve racing at Hollywood Park," said Doug Moreland, executive vice president at Wilson Meany Sullivan, the owner and developer of both Hollywood Park and Bay Meadows. "We had that path going, and we also had the path of looking at the opportunity to redevelop the site." Since 2000 Hollywood Park's handle has dropped from more than $400 million to $280 million per year; the city's share has fallen accordingly, to less than $1 million.
"I don't see [development] as a trend that will begin," said Inglewood City Councilman Daniel Tabor. "I see it as a trend that will continue."
Both Santa Anita and Golden Gate Fields are currently zoned for racing and have no imminent plans for redevelopment, but it may only be a matter of time until horse racing tracks go the way of drive-in movies and steel mills. This time, however, planners have been stepping more gingerly on such prized property, envisioning not identical tract homes or office parks but more complex developments that pass muster with stakeholders and public officials – and that favor two legs over four.
"Facilities like racetracks, like old drive-in movie theaters, failing shopping malls… are potentially great assets," said David Goldberg, communications director for the advocacy group Smart Growth America. "They represent a real opportunity to create new neighborhoods, enlarge the tax base and to take what could be an eyesore or dead spot and make it a vibrant part of a community."
As result, the most pastoral of spectator sports is giving way to aggressive new conceptions of urbanism, with Wilson Meany Sullivan turning both of its properties into mixed-use infill developments. The Bay Meadows site encompasses a total of 173 acres while "Hollywood Park Tomorrow" will cover 238 acres.
If the Inglewood City Council approves Hollywood Park Tomorrow, supporters hope that the blare of the final Call to Post will, in turn, breathe new life into the gritty city that has featured in more than a few gangsta rap lyrics.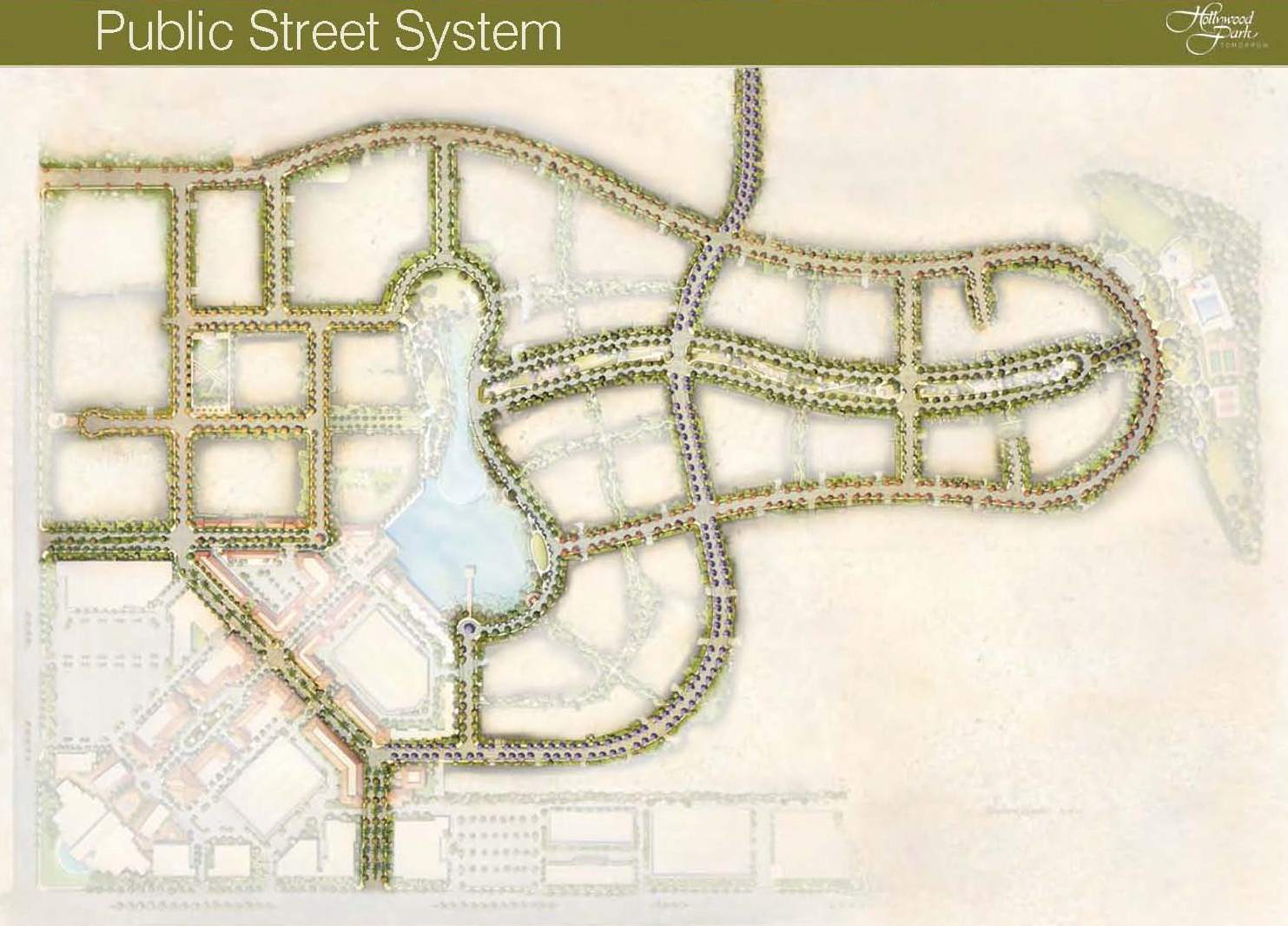 At Hollywood Park Tomorrow, a tree-lined street system and residential neighborhood would surround a new lake and park. (Source: Wilson Meany Sullivan)
Nearly 3,000 residential units would be laid out in a curvilinear street pattern replete with trees and landscaping at Hollywood Park Tomorrow. The plan includes 25 acres of park space, and, in its southwestern corner, a retail and entertainment district with 650,000 square feet of space in a city that is notoriously bereft of high-quality retail. The plan calls for a "lake park" in the center that would echo Hollywood Park's infield. A public school could also be included.
The Bay Meadows master plan – which includes more than 1,200 residential units and 1.2 million square feet of commercial space to be built in four independent phases – attempts to make the project as low-impact as possible. It focuses on the adjacent Caltrain commuter rail station, thus positioning it as a "creative district" to serve both Silicon Valley to the south and San Francisco about 20 miles north. At the same time, the plan attempts to knit together surface streets that would span the railroad tracks and connect the project with the rest of the city.
"When you do any kind of infill site you have edges that you need to respect," said Paul Milana, a partner at Cooper Robertson, which has developed the site's master plan.
Both projects have faced opposition, however, because – unlike with abandoned factories or military bases—cities stand to lose tax revenue and jobs when racetracks abruptly close. Bay Meadows narrowly dodged a voter referendum that could have killed the project (see CP&DR Legal Digest, January 2008). More recently, Wilson Meany Sullivan has taken heat for razing the track in February and summarily delaying construction without ensuring replacement of the track's former $300,000 annual tax contribution to the city.
Critics of Hollywood Park Tomorrow contend the historic value of the racetrack and the economic value of its largely union jobs outweigh the uncertainties that the development would bring.
"Some development will help the area," said Diane Becker of opponent group Save Hollywood Park. "But destroying the main attraction to the city and a large job base makes no sense."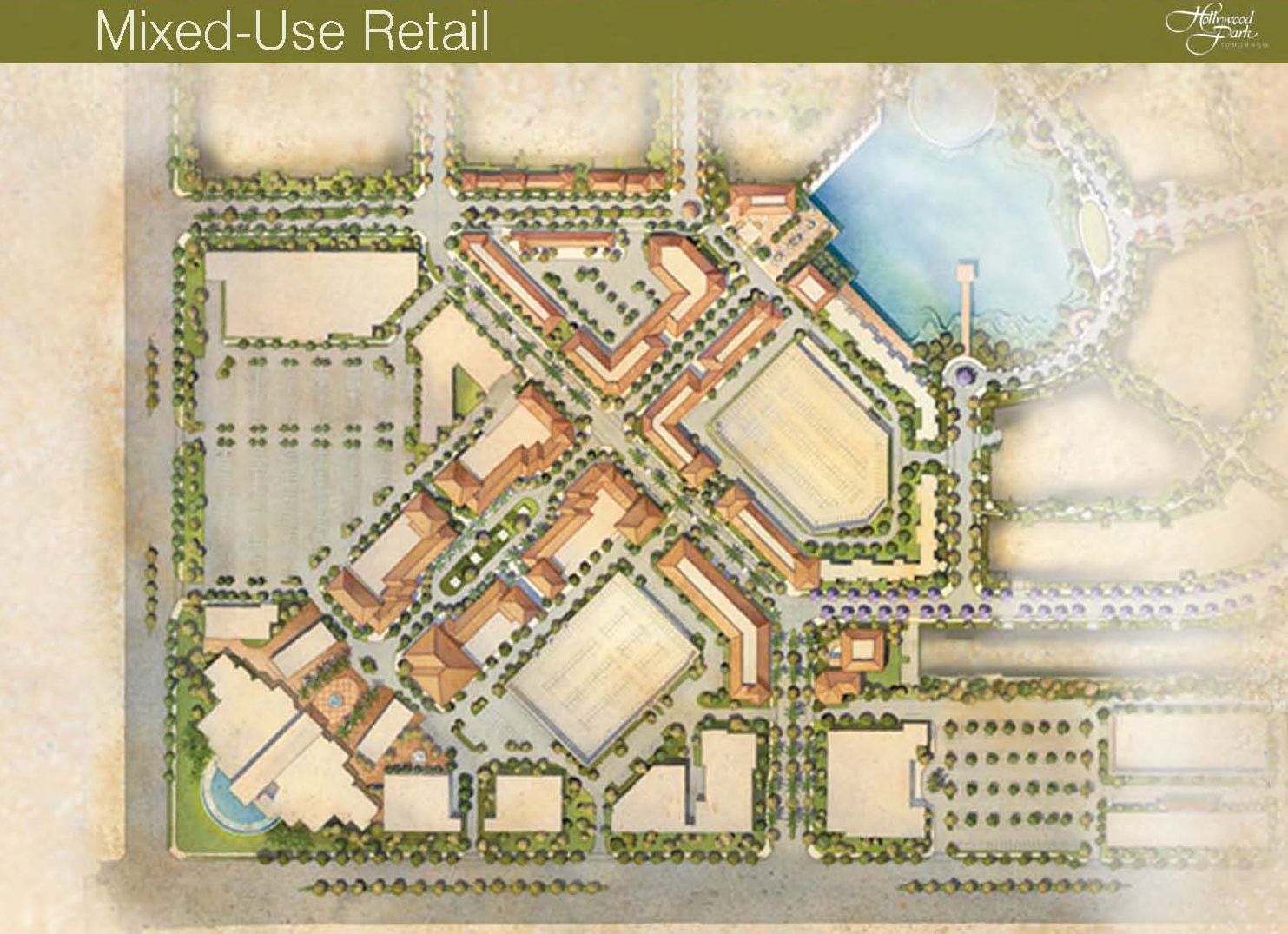 The Hollywood Park property nearest the corner of Prairie Avenue and Century Boulevard would feature mixed-use retail development.
Inglewood officials contend that the development agreement will compensate for the shortfall. "The city will get a guaranteed income stream from Day One whether they're at full build-out or not," said Tabor. Meanwhile, Wilson Meany Sullivan estimates that the project could create up to 19,000 new jobs. The Hollywood Park Casino will remain and continue to operate as part of the new development.
"This is a $2 billion investment in Inglewood, and I think people recognize the economic benefits the city will receive from this," said Moreland. "Over $100 million in tax increment because it's in a redevelopment area."
Though the financial outcomes remain to be seen, the aesthetic principles that guide both projects have arisen through intense public processes. In both Inglewood and San Mateo, local stakeholders have gone to the "smart growth" playbook to demand that the developments are integrated with the existing cityscapes, and include community benefits and a mix of uses. Some stakeholders have embraced the opportunity.
"It's rare for a project at public hearings to have anybody outside of project sponsors, real estate interests, and the standard folks come out and support the thing," said San Mateo Principal Planner Stephen Scott. "We had independent people come down and say you're doing the right thing. The silent majority was not so silent in this case." The project has even been endorsed by environmental groups such as the Sierra Club and the Greenbelt Alliance for its emphasis on transit and density (see CP&DR Local Watch, March 2006).
"The design details really matter," said Goldberg. "The way that you mix the uses really matters, as does the balance between traffic and connectivity."
Bay Meadows is in the final throes of the approval process and hopes to break ground by the end of 2009 or the beginning of 2010. The master plan for Hollywood Park recently gained unanimous approval of the Inglewood Planning Commission and is slated for a vote of the City Council soon.
Whether these developments will spur others across California depends in part on the health of horse racing. The tracks in Albany and Arcadia may do more business in the absence of their respective intra-regional competitors. But both cities are aware of the precedent that has been set and of how valuable both sites could be depending on whether they could be rezoned.
"We haven't talked specifically to groups, but with what's gone on with Bay Meadows and Hollywood Park, I'm sure there's interest in the entire site," said Arcadia Development Services Director Jason Kruckeberg. "There's not too many 380-acre sites in Los Angeles County in an urban area like that."
Developer Caruso Affiliated has already received approval to build a lifestyle-center mall on part of Santa Anita's parking lot (see CP&DR, December 2006; Legal Digest, January 2006). Caruso Affiliated did not respond to questions about whether it might bid on the site and initiate a zoning change. Kruckeberg said that for the time being, "the city and the community ... want it to be a horse race track as long as it can be."
The process which a buyer or developer would have to go through is a real wild card," said Kruckeberg. "So it's really tough to put a value on the overall 300-acre piece."
Albany Community Development Director Ann Cheney said that the bar for rezoning Golden Gate Fields is particularly high. The city's Measure C puts major zoning changes in the hands of voters, meaning that any developer who wanted to replace the track with housing, offices, or any other development that might complement the site's commanding view of San Francisco Bay and the Golden Gate Bridge would have to run a gantlet of community outreach.
"(A developer) has to convince this entire community that that's the best thing to do," said Cheney. "It's not just in the zoning ordinance ... this is going to have to go back to all of Albany's registered voters." Cheney added that any redevelopment plans would have to account for a wide range of potential uses, including parks, open space, and the maintenance of the functioning racetrack alongside new construction.
If arguments about smart growth and public benefits don't sway stakeholders, developers can always try handing out mint juleps.

Contacts:
Daniel Tabor, Inglewood councilman, (310) 412-5111.
Paul Milana, Cooper Robertson Partners, (212) 247-1717.
Doug Moreland, Wilson Meany Sullivan, (415) 905-5300.
David Goldberg, Smart Growth America, (202) 412-7930.
Ann Cheney, Albany Community Development Department, (510) 528-5760.
Jason Kruckeberg, Arcadia Planning Division, (626) 574-5414.
Bay Meadows development: www.baymeadows.com.
Hollywood Park Tomorrow: www.hollywoodparktomorrow.com.