This is a story of two downtowns — one that has become a model core for a large suburb, and one where the walls that stalled progress have finally come down. This is also the story of the long-term consequences, sometimes unintended, of land use decisions.

The downtowns are in the neighboring Silicon Valley cities of Mountain View and Sunnyvale. Through more than 30 years of planning, community involvement and public investment — and some good luck, according to Community Development Director Elaine Costello — downtown Mountain View has evolved into a thriving mixed-use district. A couple miles south, in downtown Sunnyvale, crews in May began demolishing Sunnyvale Town Center, an enclosed mall smack in the middle of what would be downtown. Developers bulldozed the mall to make way for a mixed-use redevelopment project that city officials hope will finally bring life to a district that has struggled for more than a decade.

Were Mountain View's civic leaders prescient and Sunnyvale's ignorant? That would be a difficult argument to advance. They made their downtown choices during the 1970s, and Mountain View is clearly enjoying more success today. But way back when, it appeared that Sunnyvale was leading the way. The biggest difference turned out to be the construction of Sunnyvale Town Center, which opened in 1979. The mall thrived for a spell, but then it started dying a slow death and became the obstacle to downtown revitalization. Mountain View had obstacles to be sure, but they were not 36 acres of walled-off retail amidst a sea of asphalt.

During the post-war era, when Silicon Valley was closely tied to the aerospace industry, Sunnyvale was the preferred suburb. Mountain View — known derogatively as "empty view" — was a place where young families bought their first house, recalled Bruce Liedstrand, who was Mountain View's city attorney and then city manager for most of the 1970s and '80s. Because Sunnyvale had about twice the population and more desirable demographics, it was no surprise that Sunnyvale, not Mountain View, would get the de rigeuer mall. That might have been Mountain View's first stroke of good luck.

Walk down Mountain View's Castro Street, the main drag, at lunchtime today and you'll be overpowered with aromas from numerous ethnic restaurants. Downtown office workers fill tables that line the sidewalks. Three independent bookstores and various coffee houses do brisk business. Return eight or ten hours later, and you're apt to find an even livelier scene, as locals dine, drink, shop and hang out.

It wasn't always this way.

Mountain View commenced redevelopment during the 1960s for the central business district. The core, four-block area along Castro Street remained relatively healthy through the '60s and '70s while the redevelopment agency began making incremental improvements. During this period, the tallest building in town, a 12-story office tower built on speculation, went up near the southern end of the core area — and then sat empty for a decade. The vacant tower, which for a time was guarded by snarling dogs, was an embarrassment, but it also helped galvanize community interest in a real downtown, according to Liedstrand, who is now a design and development consultant.

The city formed various committees and task forces for residents, property owners and merchants. They toured downtowns as far away as Santa Barbara to figure out what worked and what did not. Liedstrand hired Michael Freedman, now a noted urban designer but at the time fresh out of UC Berkeley, to help with planning and design. The city adopted a "precise plan" during the mid-1980s that was heavy on design and light on use restrictions.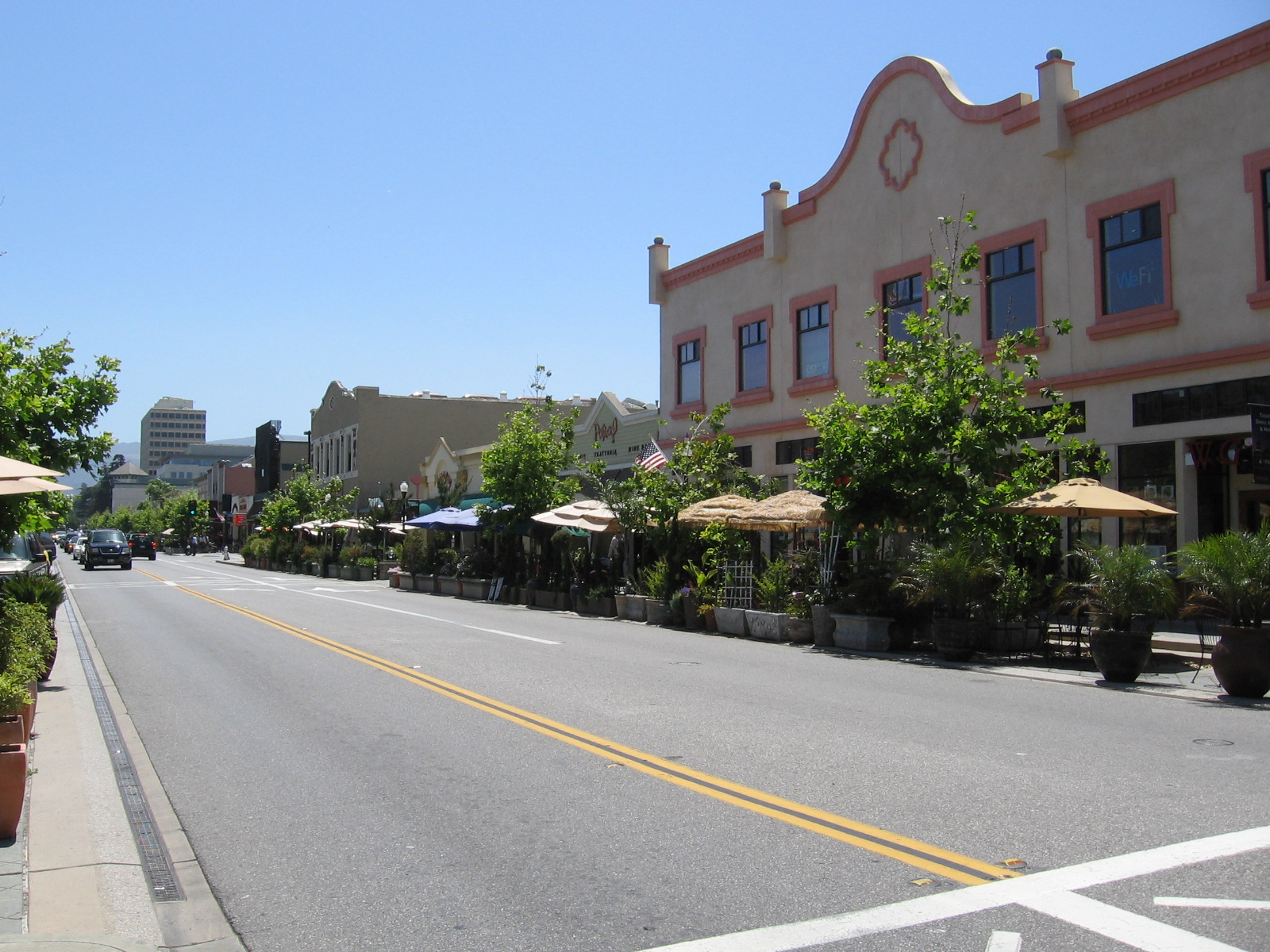 Moveable planters separate traffic from alfresco dining areas on Mountain View's thriving Castro Street.
"We were regulating the physical form before there was 'form-based code," Liedstrand said. Just as importantly, he said, the planning efforts forced locals to think big. The "we're only Mountain View" attitude began to fade.

The next milestone was completion of a new city hall and performing arts center on Castro Street next to the historic core in 1991. There were complaints at the time about the $40 million cost, recalled Liedstrand, but those complaints diminished quickly because the facilities designed by William Turnbull Associates are a notch above average. A four-story rotunda, a new plaza, a refurbished park, and soon a refurbished library overlooking the park, became the scene of numerous community events and informal gatherings.

However, "that's how it stayed for literally 10 years," said Costello, who arrived shortly after the civic center was completed. "We weren't getting any private development at all."

That changed in a big way when international commercial developer Tishman Speyer announced it wanted to build offices downtown. The developer turned out to be "tremendously cooperative," Costello said. Tishman Speyer built a six-story structure that exceeded the city's height limit. But the developer provided all parking on-site in a four-level underground garage and leased the ground floor to restaurants with expansive outdoor seating areas.

Tishman Speyer's building at 400 Castro Street opened just as the dot-com crash struck Silicon Valley. So while downtown Mountain View office demand was sated for the foreseeable future, residential developers came knocking. The downtown precise plan, last updated in 2004, permits 30 to 50 dwelling units per acre and encourages upper-floor residences on top of retail space. Since 2001, the city has approved several hundred apartments, condominiums and row houses, and more are on the way. Helping to encourage the residential development is the Centennial Plaza transit station at the north edge of downtown, where Caltrain, light rail to San Jose and a regional bus system converge.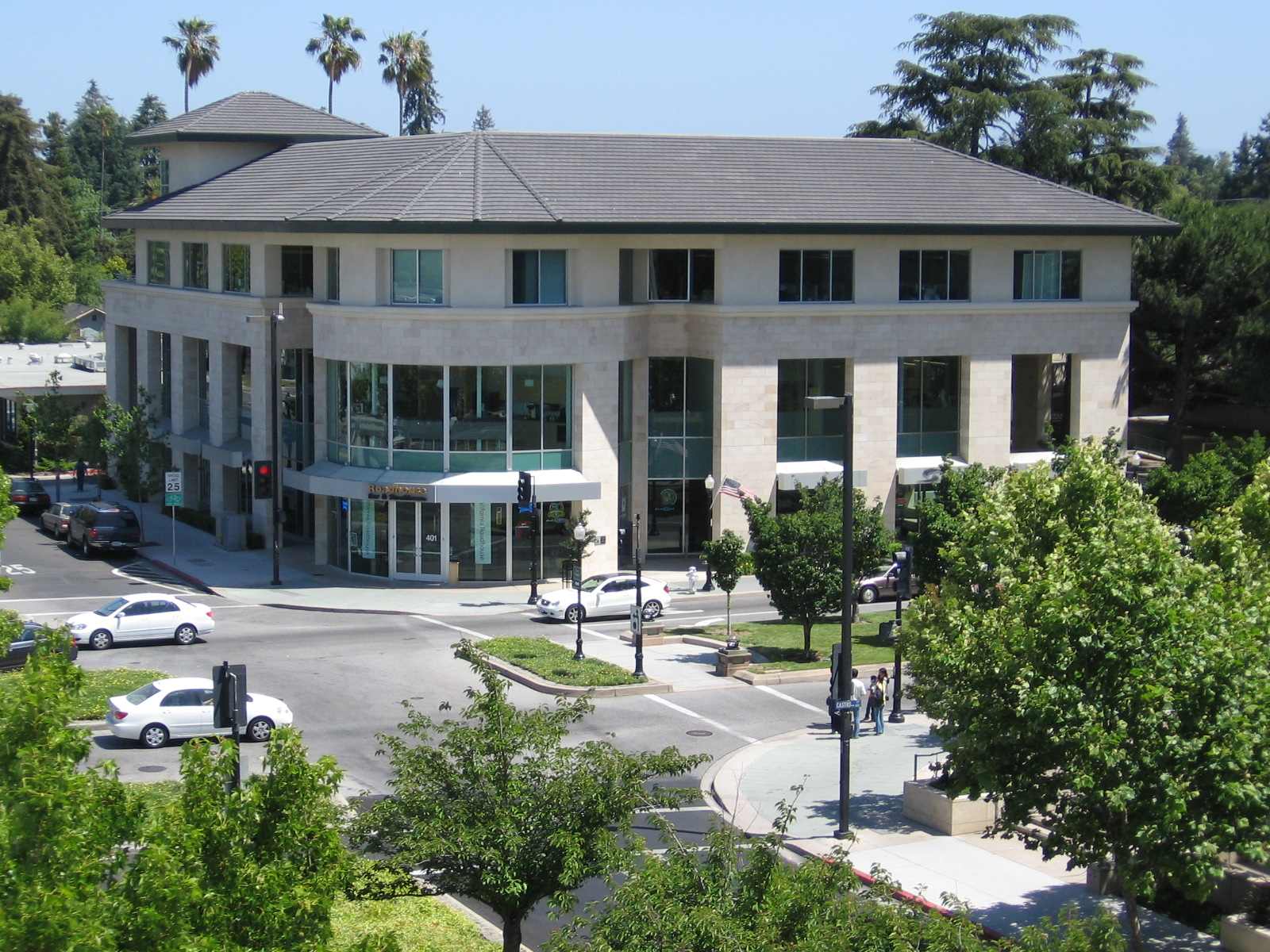 A new building on Castro Street in Mountain View features offices above restaurant and retail space.
In all, the city's redevelopment arm has invested $116 million in downtown, which includes the construction of civic facilities and several parking garages. The investment is pretty much done, as the redevelopment project sunsets in 2009. The city has not used eminent domain, nor has it assembled parcels for developers.

"We've got these small blocks, so we could do it incrementally," said Costello, citing another way Mountain View planners got lucky. "If you go with your old urbanism, with small blocks, you are able to go with the flow."

"One of the values of a grid pattern, older-style downtown is that it allowed development to be incremental and done by a variety of people," she continued. "The community is not as vulnerable. For downtowns to be vital, they can't rely on one developer."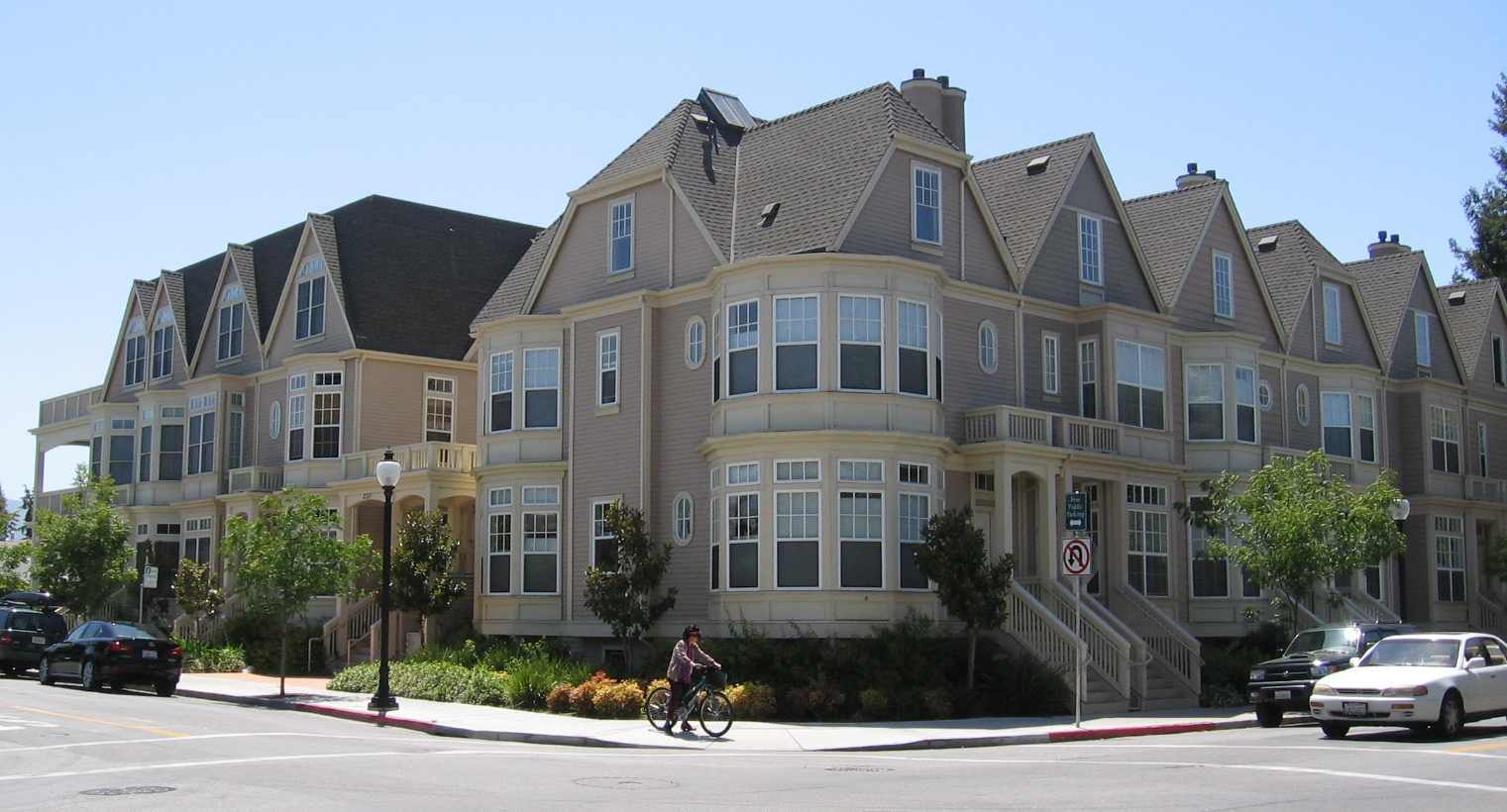 New housing in downtown Mountain View.
Sunnyvale, however, plans to do just that — rely on one developer. However, the city is already well aware of the pitfalls.

From the late 1960s into the early 1980s, cities from Redding to Napa to Santa Monica to San Bernardino approved downtown shopping malls. At the time, the move was considered a smart way to "save" downtown and spur commerce. Most of the malls thrived for a while and then began long, slow slides as newer outlying malls and power centers with easier auto access gobbled up market share. At the same time, the inward-looking downtown malls were doing no favors for the areas that surrounded them. Often, the malls were simply in the way, as they closed off a traditional grid.

To encourage Ernest Hahn's development of Sunnyvale Town Center 30 years ago, the city's redevelopment agency issued $39 million in bonds (which are still being paid off) to finance property acquisition, relocate business, demolish buildings, provide infrastructure and construct a parking deck. By the time American Mall Properties purchased Sunnyvale Town Center in 1998, the mall was struggling mightily, partly because of its location between the powerhouses Valley Fair Mall and Stanford Shopping Center.

The new owner proposed a 200,000-square-foot, outdoor addition and a 20-screen cinema. The city approved the project and a land swap, but the project stalled. In the meantime, J.C. Penney, which was one of the mall's three anchors, and an apparently popular Chevy's restaurant both closed. With Silicon Valley's economy in the tank, the closures had a cascading effect.

It was an opportune time to do some planning, said Steve Lynch, a senior planner for the city. In 2003, the city adopted a downtown specific plan update that called for reopening the grid. The city also designated the mall site a "master development area" and invited developer interest. In 2004, the city's redevelopment agency signed an agreement with Forum Development Group, which bought the mall from Lehman Brothers and assembled various parcels. Forum's plan for replacing the mall involved 1 million square feet of retail space (including existing Macy's and Target stores), about 275,000 square feet of offices and roughly 300 housing units. However, the Georgia-based developer made little on-the-ground progress. Under pressure from the city, Forum turned the project over to a partnership of RREEF and Sand Hill Property Management. The new developers modified the plans to include a grocery store and hotel, and in May started knocking down the mall.

"They have demonstrated an eagerness to get the project going," said city spokesman John Pilger. City officials are thrilled to see progress, but the progress is not coming cheaply. The redevelopment agency has agreed to pay the developer at least $4.5 million of tax increment annually for 22 years. Partly in exchange for that consideration, the developer is responsible for the site's new streets, as well as a number of surrounding intersection improvements.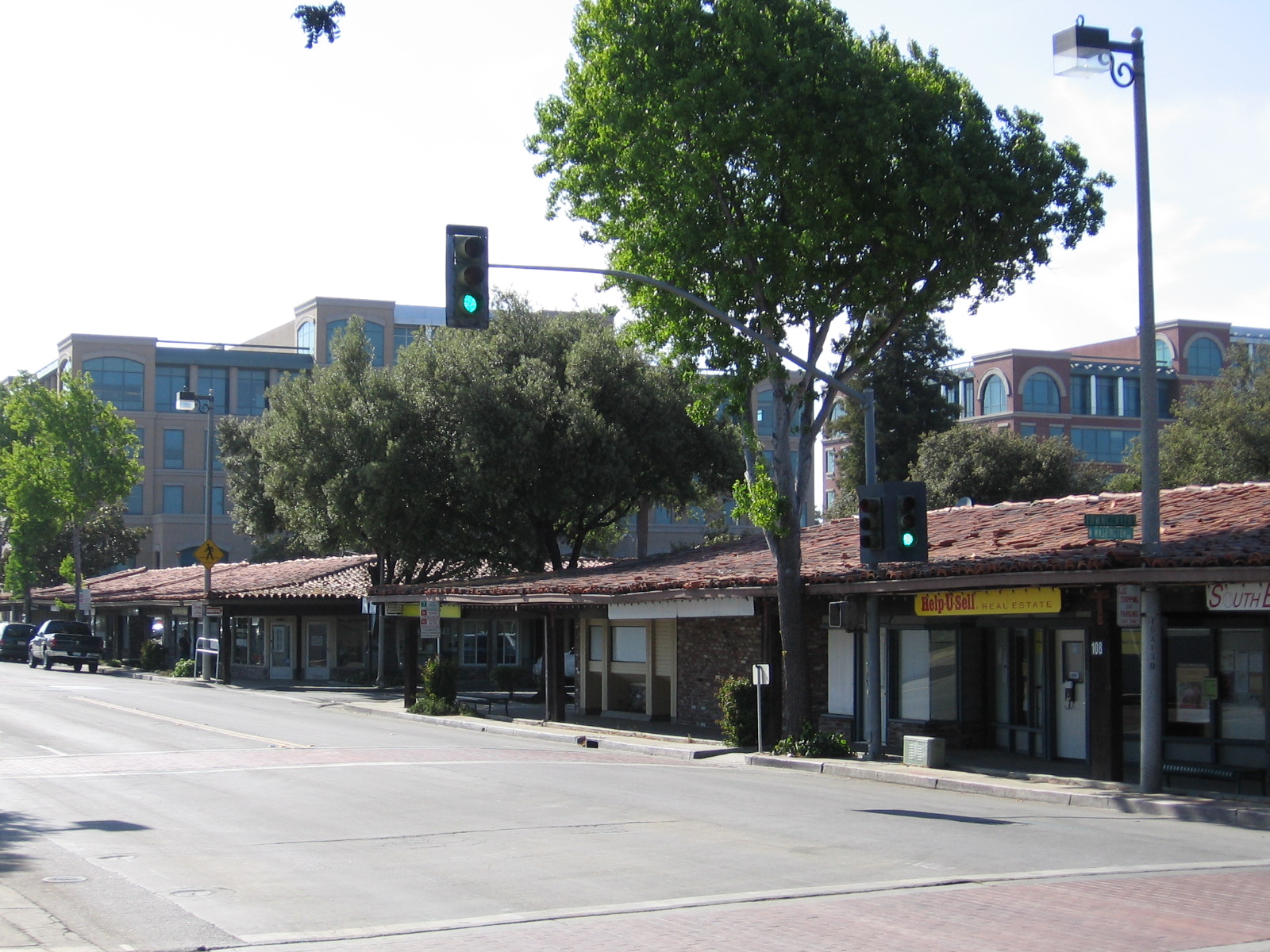 In Sunnyvale, the Juniper Networks headquarters towers over a dilapidated "town and country" shopping center that may be redeveloped.
Lynch said the hope is that the new mixed-use development will encourage similar projects nearby. Already, Sand Hill Properties has purchased a dilapidated "town and country" shopping center across from Macy's and is talking about developing 450 housing units above new retail space.

Sunnyvale does have downtown building blocks. Murphy Avenue is a leafy "restaurant row" adjacent to a Caltrain station and provides the right flavor for downtown, Lynch said. Juniper Networks has its world headquarters in a 425,000-square-foot Tishman Speyer office complex only a few blocks away. Pilger estimated the first part of the mall site redevelopment could be complete by spring 2009.
Murphy Avenue: Sunnyvale's restaurant row.

Was the mall a mistake? Perhaps in hindsight, but Sunnyvale is not alone. Laura Cole-Rowe, a downtown consultant in the Bay Area and Central Valley, reeled off a list of cities that have been trying to rework central city malls.

"Everybody now is going back to pedestrian friendliness. Everybody is doing the exact opposite of malls," Cole-Rowe said. "Now it's more about the experience of downtown."

In Mountain View, that experience exists within easy walking distance of a bustling transit station and new housing. It's an experience that Sunnyvale is hoping to replicate in its own fashion.

Contacts:
Elaine Costello, Mountain View Community Development Department, (650) 903-6306.
Bruce Liedstrand, Liedstrand Associates, (650) 428-1700.
Steve Lynch, Sunnyvale Community Development Department, (408) 730-2723.
Laura Cole-Rowe, community consultant, (707) 631-5029.
Downtown Mountain View precise plan: http://www.ci.mtnview.ca.us/civica/filebank/blobdload.asp?BlobID=2768
Sunnyvale Downtown redevelopment website: http://sunnyvale.ca.gov/Departments/Community+Development/Downtown+Development/