On one block of East 14th Street in downtown San Leandro, Chinese characters fill most of the storefront signs. One block to the north, most signs are in Spanish. A couple blocks farther north, men wearing turbans chat on the sidewalk – near Thai and Greek restaurants.

Less than a block off the East 14th commercial corridor lie charming, well-maintained bungalows. A bit farther off the main drag are five-story apartment buildings, a BART station surrounded by a sea of parking lots and, in the other direction, a bustling nine-year-old library with its own parking ocean.

Downtown San Leandro is clearly in transition. A working-class city with a large industrial base located just south of Oakland, San Leandro's suburban past and its more urban future are present at the same time. Now, the city has big plans to transform its downtown into a truly urban, pedestrian-oriented place that takes full advantage of the BART station and a planned bus rapid transit line. The city adopted a transit-oriented development strategy for a 500-acre area in 2007, and in March the City Council unanimously approved the first project to implement the strategy – a 100-unit affordable housing complex, with space for programs and services, right next to the BART station. This month, the city is set to approve a larger, market-rate condominium project that will contain 200 housing units and 5,000 square feet of ground-floor retail space.

"This isn't transit-oriented development, it's pedestrian-oriented development," San Leandro Senior Planner Phil Millenbah said of the city's overall plan. "If it's not good for walking, it's not going to be good for transit."

The city's approach has won plaudits from developers, the business community, environmentalists and transit supporters, while the response has been mixed among homeowners and affordable housing advocates. The recently approved affordable housing project in particular drew opponents who complained the apartments would attract crime and burden schools. Affordable housing advocates, meanwhile, have expressed concerns about gentrification. Thus far, a unanimous City Council has stood behind the development strategy and projects.

"I believe it will create a vibrant downtown and help combat climate change. I also believe that the developers have done an excellent job with community outreach," City Councilman Michael Gregory said upon approving the affordable housing project.

San Leandro was founded on the east side of San Francisco Bay in 1855 and incorporated in 1872. For decades, it was a predominately Portuguese enclave. Over the years, agriculture and oyster harvesting gave way to heavy industry. Until the 1950s, an Oakland-to-Hayward streetcar line ran through town. The city's flourishing downtown began to fade after World War II, and it nearly died entirely once Bay Fair mall opened on the southern edge of town during the late 1950s.

The city created its first redevelopment project area in 1961, but the city's redevelopment efforts were largely guided by suburban priorities, explained Community Development Director Luke Sims. In the early 1980s, for example, the redevelopment agency subsidized development of an automobile-dominated commercial center with a large parking lot right in the heart of downtown. Redevelopment efforts are now headed in a more urban direction, said Sims, and planners see the unfortunate downtown commercial center as an "opportunity site."

Momentum for a more vibrant downtown began to build during an update of the city's general plan earlier this decade, according to Sims. In 2005, the Metropolitan Transportation Commission awarded the city a $450,000 grant to prepare a station area plan. After lining up an additional $51,000 grant from the Alameda County Transportation Improvement Authority, the city spent nearly two years in a planning process spanning dozens of public meetings, workshops and field trips. The process concluded in September 2007 with adoption of the "Downtown San Leandro Transit-Oriented Development Strategy."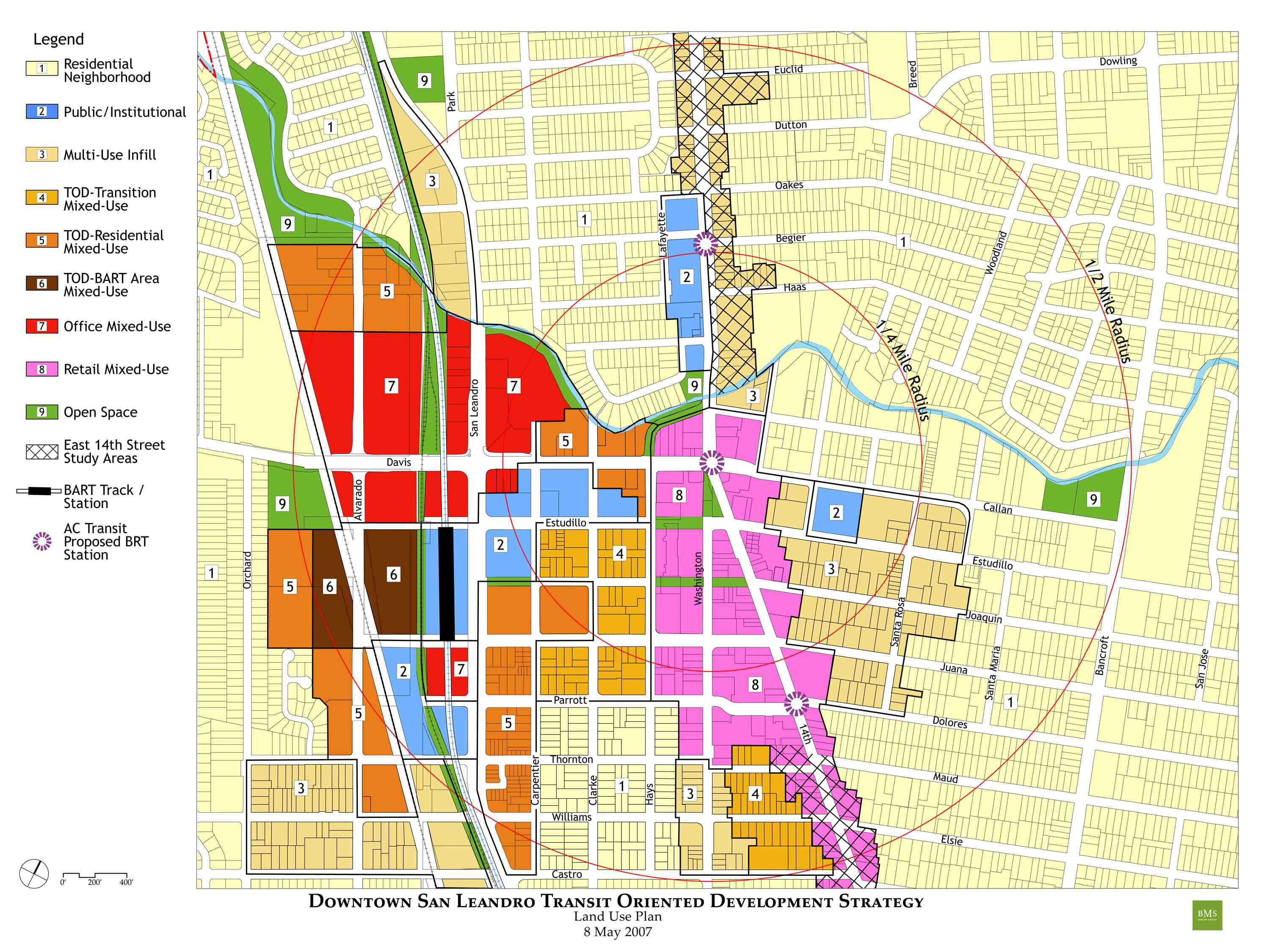 The transit-oriented development strategy's land use plan. (Source: BMS Design Group)
The plan covers 502 acres within a half-mile radius of the intersection of East 14th, Davis and Callan streets. The area contains many building blocks for downtown success, including heavily-used AC Transit bus stops, future bus rapid transit stops, a 37-year-old BART station, the civic center, the library, a handful of historic structures, three parks and a fairly tight street grid, as well as demographic diversity, a weekly farmers market, a community theater and numerous churches. At the same time, many sidewalks are narrow, street lighting is poor, there are few good public gathering spaces, vacant lots dot the area, and many retail and office buildings face parking lots rather than the street.

The plan speaks to "a new kind of development" that emphasizes medium to high densities, mixed-uses and fewer cars. The plan could accommodate an additional 3,400 residential units, 120,000 square feet of retail space and 718,000 square feet of offices, with the majority of new housing and offices in close proximity to BART. Planners identified 88 acres of opportunity sites within the area, mostly in the form of parking lots, vacant industrial sites and underused parcels. The plan also calls for streetscape improvements to make walking and bicycling more enticing, and for connecting the grid where railroad tracks, expansive intersections and San Leandro Creek now pose barriers.

The plan encourages new development by increasing housing densities to upwards of 100 units per acre, permitting taller buildings (the area around the BART station has no height limit) and reducing parking requirements. In fact, said Planning Manager Kathleen Livermore, the city went from having some of the region's greatest parking requirements to some of the leanest. Multiple-family units that used to require 2.25 to 2.5 parking spaces each need only 1 to 1.5 spaces apiece within the plan area.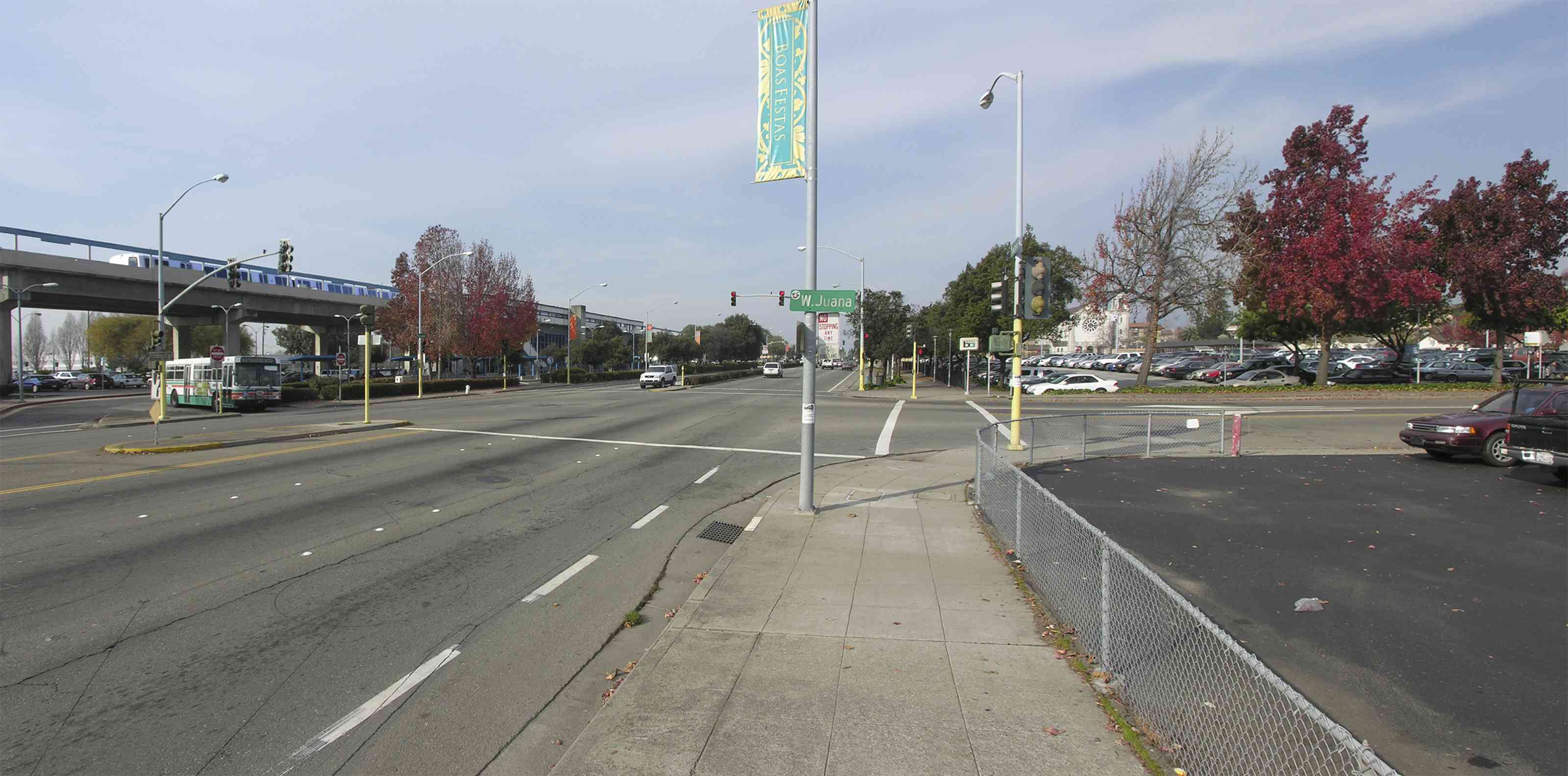 The vicinity of the downtown BART station today (top), and as envisioned in 20 years. (Source: Urban Advantage.)
New San Leandro Chamber of Commerce CEO David Johnson, who spent many years working on Oakland economic development, praised the plan for its anticipation of a public shift to transit, for not overdoing the retail component in a way that competes with the existing 14th Street corridor, and for leaving pleasant residential neighborhoods alone.

"This city is very good about bringing the community to the table. This dialogue that has been going on is thorough and respectful," Johnson said.

The first major project to comply with the plan is Westlake Development Partners' San Leandro Crossings project. It involves a 100-unit affordable housing component called "The Alameda" on a 1.25-acre vacant industrial site next to the BART station. The nonprofit Bridge Housing will develop and operate The Alameda, which is the first non-senior apartment complex approved in more than two decades, according to city officials. Next up is the 200-unit market-rate condo project on a 2.2-acre BART parking lot, which BART is swapping for a piece of Westlake's property. Future phases of the Crossings could include another 400 units, plus office and retail space.

A $24 million Proposition 1C grant makes the Crossings project feasible. The grant will fund a $10 million parking garage to replace the lost parking lot and other infrastructure.

Westlake has owned its property since the 1980s, but the city's plan and commitment have only recently made development attractive, said Gaye Quinn, a consultant to San Mateo-based Westlake and a San Leandro city planner herself 20 years ago.

"We're very fortunate that the consensus around this TOD was there before we proposed our project," Quinn said. "Westlake understood that being a part of a cohesive city plan took a lot of the risk away from the entitlement process they would have to go through."

The Alameda, which is receiving a $9 million city redevelopment subsidy, drew opposition from a group calling itself Save San Leandro. Group leaders presented several hundred petition signatures against the project and complained about the subsidy, potential crime and "those people" who will live in the units. The Alameda, however, won the endorsement of environmentalists, the social justice group Congregations Organizing for Renewal and business owners.

Jim Hussey, who owns Marina Mechanical, a construction and service company located across town, said he has not heard a compelling argument against any aspect of the Crossings project. "I've got employees who have been with me for six or seven years who rent a bedroom from a family member just so they can live near work," Hussey said. "That land has been sitting there empty for a long time. Taking this empty site and doing something with it will have a positive impact."

The battle over the Crossings may be only a preview, as city planners expect the vast majority of new housing units during the next two decades to be built downtown. And once the economy turns around, those units could come on line fairly quickly. "We do have a lot of people getting their entitlements now so they can hit the ground running when the market comes back," Livermore said.

San Leandro is not alone among East Bay cities in its desire to build a downtown that takes full advantage of BART and other transit. To the south, both Hayward and Union City have adopted and started to implement similar plans (see CP&DR Redevelopment Watch, December 2007, March 2007). To the north, downtown Berkeley is booming around a BART stop, and developments at the Rockridge and Fruitvale BART stations in Oakland are considered urban models.

Contacts:
Luke Sims, Kathleen Livermore and Philip Millenbah, San Leandro Community Development Department, (510) 577-3371.
David Johnson, San Leandro Chamber of Commerce, (510) 317-1403.
Gaye Quinn, Quorum Real Estate Group, (415) 970-9820.
Downtown Transit-Oriented Development Strategy: www.ci.san-leandro.ca.us/CDTODOview.asp.
San Leandro Crossings: www.ci.san-leandro.ca.us/slcrossings.html.