Football fans who suffered through umpteen stadium proposals and yearly false starts before being rewarded with the Rams last year can be forgiven for thinking theirs was the most anguished tale of relocation in the history of Los Angeles sports.
Not by a hail Mary.
The all-time championship of uncertainty, politicking, and contentiousness surrounding a Los Angeles sports team goes to none other than the Dodgers. In City of Dreams, Jerald Podair, professor of history at Lawrence University, reveals that the most stalwart and, arguably, beloved L.A. franchise did not descend upon Chavez Ravine like a pop fly hit from Heaven. It is an encyclopedic, if not always engrossing, account.
Dodger owner Peter O'Malley's plight begins, as do many stories of 1950s urbanism, with New York City infrastructure czar Robert Moses. A careful steward of public funds, Moses refused to contribute to a stadium to replace the decrepit Ebbets Field. Though O'Malley wanted to stay in Brooklyn, he decided he had to accept an offer from the upstart city on the opposite coast. O'Malley had visited Los Angeles all of three times. With promises of 300 acres in Chavez Ravine, a fresh fan base, and dominion over a city on the rise, it seemed like the right move.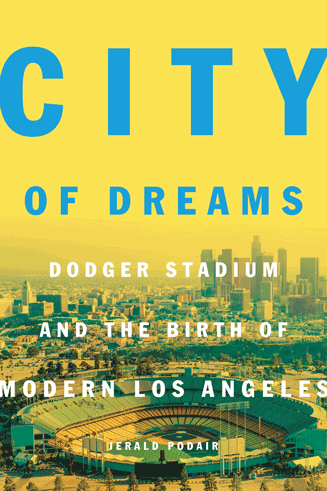 O'Malley's unfamiliarity with Los Angeles meant that he was also unfamiliar with Los Angeles politics. It's too bad O'Malley didn't have Podair to show him around.
According to what was, essentially, a handshake deal, O'Malley agreed to pay for Dodger Stadium's construction. But the city had to kick in some of the land and develop associated infrastructure – an expense some city council members refused to bear, to O'Malley's surprise and consternation.
The Dodgers' biggest fans were City Council Member Rosalind Wyman, a Democrat representing the west side, and centrist Mayor Norris Paulson. Meanwhile, Republican John Holland and Democrat Edward Royal insisted that baseball was all well and good but that public funds should not support the team. They represented citizens whom Podair refers to as "the Folks" — conservative, suburban Angelenos who wanted nothing to do with the Dodgers' potential to put Los Angeles on the national or global map.
The formation of coalitions for and against public funding "defie[d] conventional urban narratives," according to Podair, because it dispensed with party rivalries in favor of factions based on world view: "one group's dreams were local and limited, the other's national and global." This tension, argues Podair, gave birth to "modern Los Angeles": a provincial city with global impact, a diverse city with marginalized minorities and no single power base, and a bland, ahistorical cityscape with cosmopolitan assets. This analysis is Podair's greatest contribution to Los Angles political history, as it could apply to any number of issues before and after the arrival of the Dodgers – including, most recently, the debate over Measure S, the slow-growth ballot measure that failed this March.
Unable to negotiate past the deadlock, the team and its allies sponsored a ballot measure, Proposition B, to call the question in 1958. It prevailed by a slim margin: 25,000 out of 675,000 votes. It got support from African-American and Latino neighborhoods and indifference from the white, suburban San Fernando Valley. O'Malley was far from home free, though.
As every Angeleno knows, Dodger Stadium controversially displaced a small but thriving Latino community in the semi-wild of Chavez Ravine. O'Malley settled lawsuits with stalwart ravine residents. Another lawsuit went to the California Supreme Court, and local debates continued about zoning changes and development of supporting infrastructure. O'Malley nearly ran out of money before convincing Union Oil to stake him $12 million worth of advertising revenue in advance. (The "76" globe hung undimmed over the outfield until only recently.)
Podair argues that political enthusiasm for the Dodgers ran parallel with enthusiasm for downtown Los Angeles. At the height of suburban migration, the development of the stadium coincided with plans to build the Music Center, redevelop Bunker Hill, and otherwise solidify downtown's cache of civic assets. But, as with everything in Los Angeles politics, the categories were not so tidy.
Podair roughly characterizes Dodger Stadium as a "downtown stadium." That's true, as far as it goes. Home plate is less than two miles from City Hall. And yet, for pedestrians, the Dodgers might as well still play in Brooklyn. Major boulevards, two freeways, landscaping, 16,000 parking spaces, and an empty hillside insulate the site. So, while Dodger Stadium certainly isn't suburban the way Anaheim Stadium is (built in 1966 for the Angels), it is nothing like the cozy retro/urban ballparks of the past 20 years. It has none of the intimate urban connections of its relatively new counterparts in San Diego and San Francisco.
Podair competently describes the innovations of Dodger Stadium, especially its nearly perfect sightlines and intimacy, created by cantilevered decks stacked neatly on top of each other, which "was probably the most important departure from the architecture of the traditional stadiums." Podair praises architect-engineer Emil Praeger but oddly neglects to identify the stadium's other architect, Los Angeles-based Edward Fickett (known mainly for designing massive tract housing developments).
Podair calls their creation "the nation's first truly modern ballpark," but he uses "modern" only superficially: "the stadium's look, operation, and culture were distinctively modern. Its lines were sleek and symmetrical." Though Podair does not claim to be an architectural historian, he misses some crucial points by ignoring the ideology of Modernism and its historical context. This oversight elides the fact that Dodger Stadium is a prime example of auto-centric, space age design that, arguably, represents the worst of 20th century American urbanism.
Indeed, Dodger Stadium is, in many ways, a microcosm of Los Angeles. Modern and ambitious, but also neither fish nor fowl, neither urban nor suburban.
O'Malley insisted on such a spiffy stadium not because he wanted the stadium to delight not only Brooklyn-style roughnecks but, indeed, everyone else: men, women, families, and fans of all ethnicities, backgrounds, and income levels. Dodger Stadium introduced many delights that fans take for granted today. It had better food and bathrooms. It had an organ. Inspired by master modernist-capitalist, and fellow Southern Californian, Walt Disney, O'Malley insisted that "at Dodger Stadium, everything would be pleasantly predictable, except for the outcome of the game itself."
This approach, argues Podair, was O'Malley's stroke of genius: in a city without provincial rivalries like New York, he recognized that the Dodgers could be everyone's team. He even attracted ample numbers of Latino fans, despite the Chavez Ravine controversy.
City of Dreams adds an essential volume to the Los Angeles canon. And yet, in keeping with an unfortunate convention in scholarly writing — it is not a book for the fair-weather fan — Podair allows the present to fade into oblivion.
Even today, the Dodgers' impact on Los Angeles is debatable. Really, the "revitalization" of downtown didn't begin until the early 2000s. In fact, the assault of Modernism, embodied by the 1955 clearing of Bunker Hill (which puts the destruction of Chavez Ravine to shame, in terms of sheer volume), was arguably the worst thing ever to happen to downtown Los Angeles. And Podair discusses none of the subsequent political battles that echo those that he so painstakingly describes – most recently Measure S, a slow-growth measure that appealed directly to "The Folks." Given that the Dodgers arrived only 59 years ago, some of those Folks might have been the same to vote against Proposition B.
Meanwhile, the original question of whether the Dodgers deserved public support, remains unanswered. Maybe, as is often the case with Los Angeles, the city managed to strike such an exquisite, if unexciting, compromise that the question becomes moot.
Podair even fails to mention a crucial piece of Dodger Stadium trivia: O'Malley's Space Age creation is now the third-oldest stadium in the country. And yet, with few recent upgrades, it's still going strong.
The Rams have a lot to live up to.
City of Dreams: Dodger Stadium and the Birth of Modern Los Angeles
Jerald Podair
Princeton University Press
366 pages
$32.95
2017